It's time for LEGO® Fun Friday!
LEGO® Fun Friday is a blog hop that will take place on the first and third Fridays of the month.  My oldest son Aidan (age 9) and I created this blog hop so that we can share LEGO® designs and visit blogs to see LEGO® ideas that other kids have created!
This week, Aidan built an Ice Fort for his ninja crew.
The Ice Fort has a jail on the inside.
The ninja crew went out on a mission this morning.
"Wow," said the samurai, "These are big gorilla tracks!"
"And they're fresh, too!" said Amaze-O.
"I'm not getting a good feeling about this…" said Luke. (I think that Luke Skywalker is dressed up in the ninja outfit – my boys like to use the head from a certain character and give them other clothes!)
"Nooooooo!  Not the giant gorilla!  Let's attack!"
Now it's your turn!  Here's a button to grab if you'd like to share LEGO® Fun Fridays!
LEGO® is a trademark of the LEGO® group of companies which does not sponsor, authorize, or endorse this site.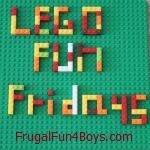 <a href="https://frugalfun4boys.com/tag/lego-fun-fridays" target="_blank"><img src="http://i1249.photobucket.com/albums/hh509/FrugalFun4Boys/legobloghop-1.jpg" alt="FrugalFun4Boys.com" width="175″ height="175″ /></a>